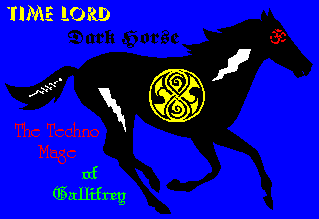 Time Lord: Dark Horse, the Techno Mage of Gallifrey
---
Table of Contents
---
Jeffrey Clifford Jacobs was born 1 July 1972 to Sandra and Clifford Jacobs in West Hartford, Connecticut. The product of Ukrainian Jewish and Lebanese Christian decent, he quickly took interest in science, music, and imagination.

Jeffrey is currently searching out permanent employment in his field of Computer Science following his graduation in May. He is quite skilled and eager to enter the work force, confident that his abilities will be a great asset to any company to which he wishes to apply his service. If you are interested in hiring an intelligent, hard-working, ambitious employee, with skills in computers, languages, and physics, click here here to view Jeffrey Jacobs' Curriculum Vitae.

The name Time Lord: Dark Horse, The Techno Mage of Gallifrey comes from a variety of sources. Time Lord is my login name, and is a race of advanced time travelers from the planet Gallifrey. The Time Lords are the home race of the Doctor from Doctor Who. Time Lord is also the name of an ethereal character from Origin Systems' Ultima ]I[ and Ultima VII: The Black Gate. Dark Horse is a reference to my favorite song writer, George Harrison and the song, Dark Horse. Finally, Techno Mage is a reference to the Babylon 5 episode The Geometry of Shadows, which introduces a race of super advanced masters of technology whose powers have elevated them to the status of wizards.

Actually, Time Lord: Dark Horse, The Techno Mage of Gallifrey is only part of the story. My full title is:

	Time Lord: Dark Horse, The Techno Mage of Gallifrey, Dream Wizard of
the Shadowlands,  The Black Avatar  of Avalon, Soulmate  in Infinity  of the
Time  Lady  Rebecca,  Transitive  Familiar  of  The  Evil K-9,   Clandestine
Companion of  Dazuma The  Charcoal Donkey,  Alien Expatriate  in the Land of
Cynthia  Howe  Empress  Dictator of All  Mentalia,  Fiendish  Friend  of the
Fantastic Lord of Fnord, Innocent Inmate of the Doctor of the Spoons, Son of
Clifford  god of Ocean and Air, Son of Sandra  goddess of Light and  Seeing,
Brother of Michael The Blue  Musician of Mississippi, Son of Beverly goddess
of Luck and Diligence, Grandson of Emily goddess  of Wisdom and Strength, he
who is Sir Space,  The White Opossum of Springfield,  and Mister Light,  The
Orange  Lemming of Burkina  Faso;  He is The  Query  Master of the  House of
Nacousi, Jeffrey C. Jacobs.

``Strangling animals, golf, and masturbation.''

Seriously, as you may have guessed from the George Harrison & Tomorrow People Home Pages, some of my greatest interests are the music of George Harrison and the classic British Sci Fi series Doctor Who and the Tomorrow People. As well, I enjoy Babylon 5 and The X Files. I am quite keen on languages, both for the computer and spoken, and have studied French, Italian, German and Russian. My next goal is to learn Japanese. In case you haven't figured it out, this here web page is one of my hobbies too. I also love to study History, Physics and Political Science. I like to write and create and exercise my imagination as much as possible, whether it is compiling a new program, baking an original pie or creating a new universe from scratch. As with most Montréalers, I miss our winningest Expos. For more about some of these and other of my interests, please consult my list of Other Points of Interest.

In addition to my other hobbies, I have been writing songs for six years now, but my repertoire is quite slim. I have however on-lined the following songs:

Golden


A human is measured by the quality of his friends, and by that meter I am truly endowed. Here is a list of some of the people who have influenced me, shaped me, and made me what I am today, for better or for worse. Rebecca and I first met on Rec.arts.drwho a couple years ago on a matter of some confusion on whether I meant Doctor McCoy or McCoy's Doctor, and since we have had a wonderful correspondence. Rebecca is sweet and sensitive, with an ethical passion I much admire, and most of all a creative genius beyond compare. Her e-mail address is 00rrchorzemp@leo.bsuvc.bsu.edu. I wish her and her chosen, Scott Stacy, all the best in this life, and in the next regeneration. Dan is my longest, continuously running friend, and my last, best hope for camaraderie. Dan should not be confused with the infamous Dan the Antichrist Steamboat Willie of Coberian mythology; this Dan is truly a saint and has not a malicious bone in his body. Thus, despite rumor, there are no Rap songs about Dan, as such a childish gesture would not be fitting such an honorable and sincere man. Dan is currently studying history at Wesleyan and, as I, he is quite keen on foreign languages, though his choices are a bit more obscure than mine. Dan is also the definitive authority on all things Wagnerian and especially Der Ring der Nibelung, about which I am trying to convince him to write a web page. Dan can be reached for encouragement at either daste@mvax.cc.conncoll.edu or at dsterner@eagle.wesleyan.edu. My dear friend Alexander has been a valuable friend of mine for over four years now. He is also a true genius, which is why he now works at Microsoft. He can be reached at alexdz@microsoft.com. His interests include surfing, hiking, skiing, and above all, programming. Alexander wrote the classic COOL Game! for the Macintosh system, as well as Mate in 50 and VP -- Virtual Pong for the UNIX platform (with a little help from his friends). You can currently see Alexander's work in MS Word 6.0 for Macintosh under the file conversion routines, or wait for the new release of Japanese Word. Special thanks to Alexander for introducing me to the works of Scott Joplin and The Zombies. Ladies: He's still single too! What can I say to convey the love I have for my dear, sweet friend Cynthia? Cynthia and I first met 3 years ago when I posted the beginnings of my unfinished Black Adder/Star Trek: Deep Space 9 crossover (from before the latter program premiered) called Black Adder: Deep Space Ninth. Since then I have gotten to know Cynthia as a deep and sensitive human being who has always been to me like the older sister I never had. Despite the many changes she underwent from when we first met, she has remained an important and valuable friend. One of Cynthia's greatest interests is the period in English history known as the Colonial War, or the American Revolution, and she is a virtual store house of knowledge on all the important players. She even met her current boyfriend through her interest in the Rev War, as she calls it. Cynthia has a Masters' degree in Library Science and would love to pursue a career in her field. If you or someone you know has an employment offer for a job in the Library Sciences, preferably in the Buffalo, N.Y. area, please contact Cynthia at either chowe@acsu.buffalo.edu or V128JUXA@ubvmsb.cc.buffalo.edu. Andrew and I met a couple years back while we were both studying Physics. Like me, he enjoyed the program Doctor Who when he was growing up, and we found many other common interests on which we built our friendship. The most notable of these is our love for computer programming. Currently (although not immediately), we have been working on writing a Trantor T-160 SCSI driver for Linux, despite a complete lack of documentation. Andrew is also an avid user of the Python programming language, and is responsible for getting me hooked on it as well. He is also working on a Cryptography toolkit for Python based on Philip Zimmerman's PGP public key encryption scheme. Andrew can be reached at fnord@marge.cs.mcgill.ca or andrewk@dexotek.ca. Andrew is actually only half of a Gestalt entity, AndrewKuchling'n'AlisonTobin, which should be joined in the next few years. Click here to see Andrew's less spiffy but more informative home page. To Howard I owe a special thanks for teaching me all that I know about UNIX. This will no doubt give the system administrators here pause, as Howard was also implicated in one of the biggest scandals in the School of Computer Science's history, the break-in of student and professor accounts in the summer of 1991. Due to a certain element turning in evidence against Howard in order to alleviate his own sentence, poor Howard was forced to loose a semester of school and use the schools disciplinary computer for a semester. However, Howard now has the last laugh, as he has a job as system administrator of a major internet provider, where as his former friend has none. Howard also convinced me to join Montréal's only Doctor Who fan club, The High Council of Gallifrey. Howard can be reached for comment at either doctor@cam.org or ad455@freenet.carleton.ca, or visit Howard's Web Page at http://www.cam.org/~doctor/. What am I doing writing this paragraph about Erica when I should be responding to her long list of pending e-mails!? Erica and I met last August on USENET under mysterious circumstances. Unfortunately, we soon found that we had less time to chat than we had at first conceived, and thus we went through many spells of her busy schedule, my busy schedule, our busy schedules, and on and on. It seems like whenever one of us has time to write, the other is too busy, and visa versa. Never the less, I have found Erica to be an poignant, fascinating correspondent and a patient and understanding friend. I only hope she can forgive me for spending my time writing about her when I should be writing to her. All I have to do is remember her e-mail address is elpederson@ucdavis.edu. "Where's my web link?" Svetlana asked anxiously. Well, right here, my sweet, svelte friend. One of the most fascinating hobbies of this Bulgarian beauty is the world's oldest exercise, but you'll have to go to Svetlana's home page to find out what is. Needless to say, the woman has a predilection for causing a stir. None the less, Svetlana is a kind, sweet and caring person, and is always willing to lend a hand to those in need. Her heart is truly 24 karat. If you'd like to reach Svetlana for comment, you'll have to get in line, but you can try and contact her at svetla@facl.lan.mcgill.ca or svetla@gslis.lan.mcgill.ca. Gents: She's single too (though surely not for long)! We were friends once, but something when awfully awry. Sorry, Rebecca. What do I want? Well, apart from peace on Earth and good will for all, I want a love that's right; right is only half of what's wrong. All my life I've been searching for the woman of my dreams to constant failure. Despite my never ceasing, sincere attempts at approaching intelligent, fascinating women in order to form a friendly social bond, constantly I have been rebuffed, brushed off, and treated as less than human. It is my hope that one day I will meet a woman unlike those that have brought me so low, a woman who will respect me for who I am, and treat me like a human being. If this woman is reading this message, please let me know you're out there, let me know that you exist. I'm waiting to hear from you.
---

Back to the George Harrison & Tomorrow People Home Page